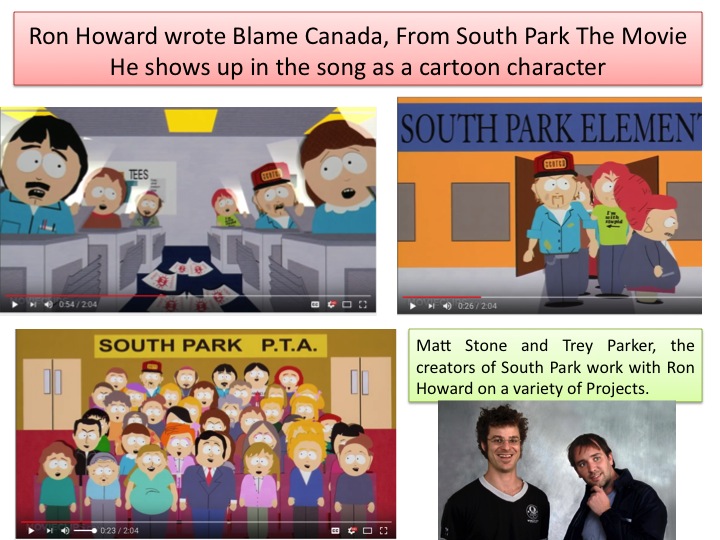 Ron shows up in several places in this song. He is doing his director's walk on. He would have written this song.
South Park The Movie is beyond brilliant! The music is lyrical and at times the musical numbers are very complex using different styles of music. It is a traditional musical. I assumed that these two guys were geniuses. They might be but it is much easier to believe that Ron wrote some, most or all of it. You would have to have a tremendous background in music and theater to write this thing. Ron fits the bill…and the film is funny as all heck…Ron can be very funny…not necessarily with me…if I'm sleeping and get a Woodrow he'll wake me up and say something like…"Hey Ed, what happens when you watch a Carrie Underwood concert?" Then everyone laughs hysterically when I quizzically pull Mr. Wilson out to see if that's what they wanted. I don't find any of that funny at all…but some people do!
This is La Resistance from the film which is sort of the musical climax of the film…that is until they add Carrie Underwood into the movie…but it is brilliant. Give it a listen.
Ron also shows up as one of the singing marching soldiers on the right side in that song. The implication is that he is involved with this song and most of the movie as well. There is film out there which surpasses Ron's brilliance however in my listening there is no music done during his time that surpasses him. Hence the film is likely over 50% his and maybe as much as 85%.
Sadly, Ron would have been involved with these two schmoes for the Columbine High School Massacre Hoax because Trey Parker and Matt Stone were Dylan Klebold and Eric Harris.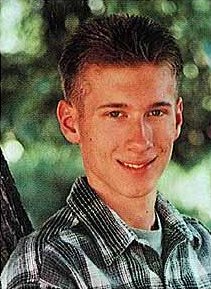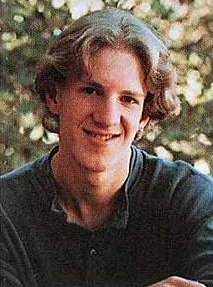 …and Michael Moore can go fuck himself too.