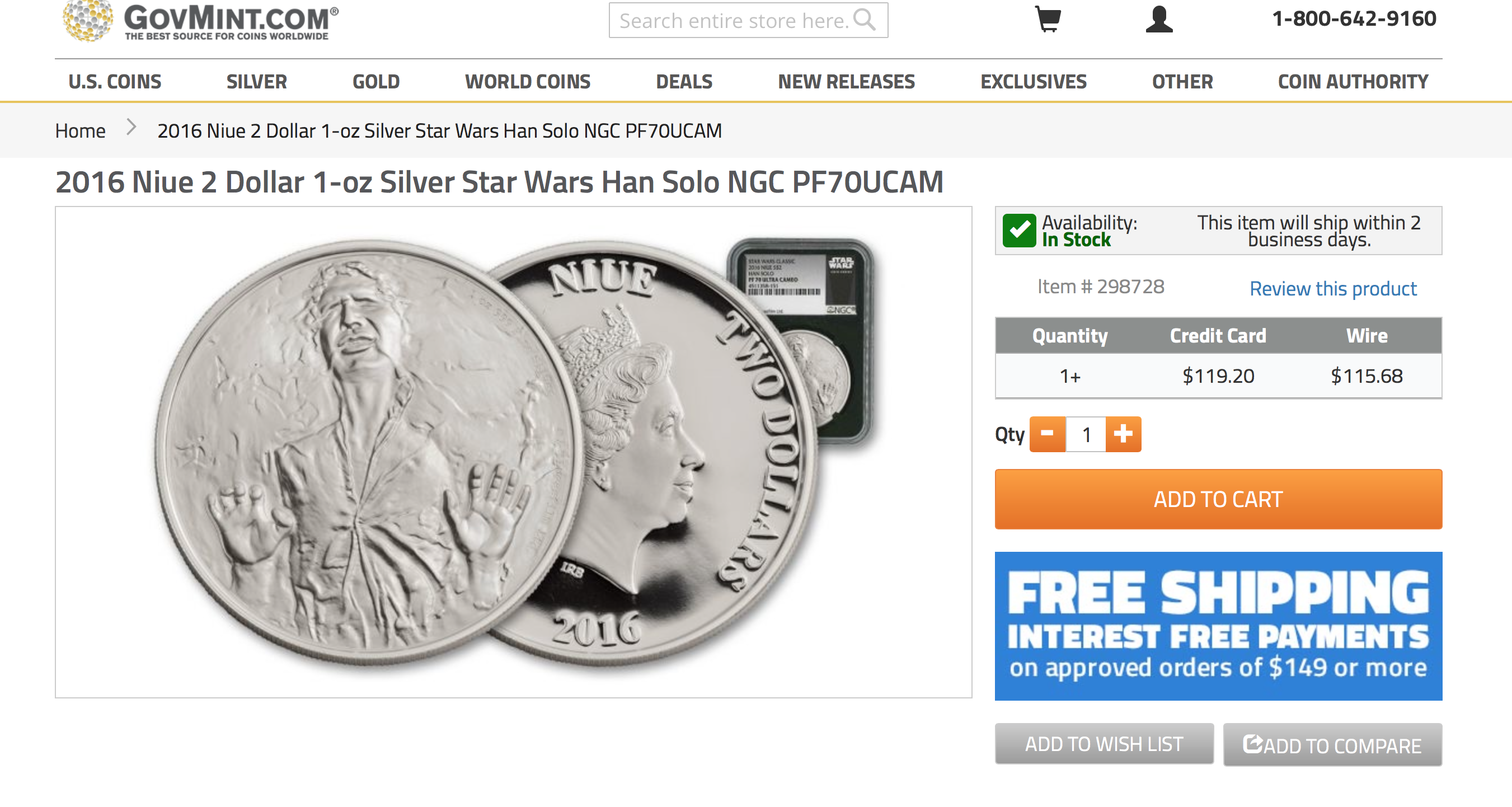 Extremely Kool Koin, The Queen of England on the front and Hans Solo (Harrison Ford) on the reverse encased in Carbonite! Roughly 120 bones for the coin. Is it worth it? Absolutely!!!! To have Hans Solo/Harrison Ford on a coin is worth everything!! Will I buy it? Probably not at this price but it's still priceless and worth it!!!! But a bit pricey for an ounce of silver.
I'll find it on the secondary market at something closer to melt… a couple of Hamiltons.
My error…. this is a mint state 70 graded coin…nearly perfect! It is worth a dozen sawbucks! It's a great collectors piece. would I pay 120 smackers for it? Probably not but I might pay 60 on the secondary market if I see it in this grade.
Han Solo Frozen in Pure Silver – Official Star Wars™ Legal Tender Silver Flawless Proofs!
Any true Star Wars fan will instantly recognize the image of the unfortunate rogue, Han Solo, frozen in carbonite by the evil Darth Vader in The Empire Strikes Back. That iconic scene represents one of the most famous cliff-hangers in film history. Would Han Solo survive to reappear in the next film, Return of the Jedi, or would he stay frozen in carbonite forever — doomed to remain the ultimate bounty hunter's trophy displayed in the lair of Jabba the Hutt?
Now, just as an older and wiser Han Solo steps back onto the silver screen in the newest Star Wars movie The Force Awakens, the Pacific island nation of Niue has just released a brand new, officially licensed one-ounce silver proof featuring the image of Han Solo frozen in his carbonite slab. But, most any collector will tell you that pure silver beats dirty old carbonite any day! As an official $2 legal-tender coin, it features the royal portrait of Her Majesty Queen Elizabeth II, as well as the 2016 year date and the two dollar denomination. This impressive one-ounce silver proof is minted in 99.9% silver with a mintage of 10,000. It has been professionally graded as Proof-70 Ultra Cameo (PF70UCAM) by Numismatic Guaranty Corporation (NGC) and comes in a sonically-sealed acrylic case with a unique black core insert that gives a phenomenal contrast in color — allowing each intricate detail to shine even more brilliantly! Each comes with a numbered certificate of authenticity and the original mint packaging. It never hurts to have the Force with you, but to seize your Han Solo proofs, all you need to do is order now!
I went looking for Cuddles and Hans from the original film Polyester. My eyes and nose are still bleeding from watching and smelling it but realized that it was Heinz not Hans but the film was hysterical and here are Cuddles and Heinz and a guy named Tab Hunter. This was put up by public demand.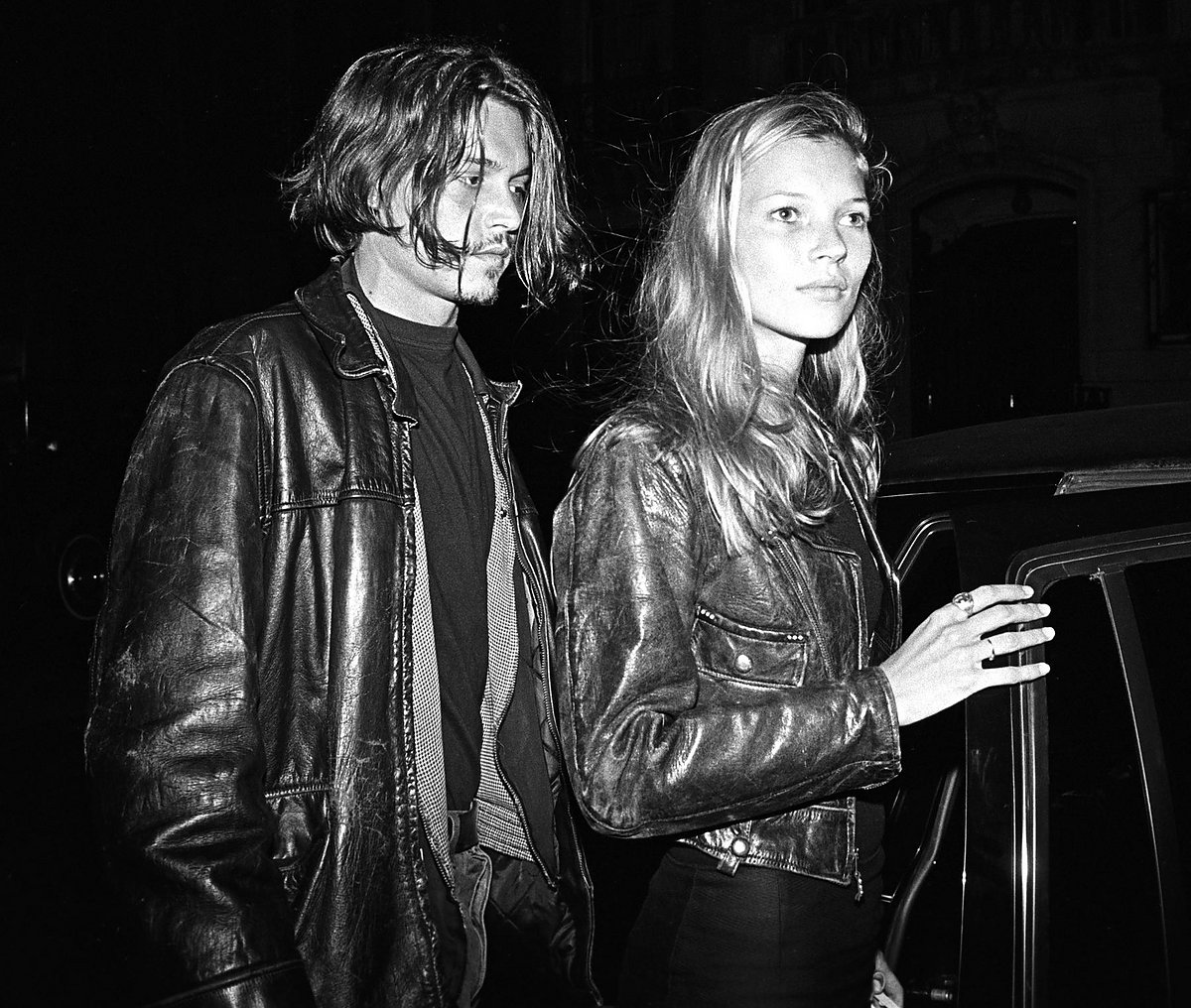 I really wish I was that beautiful!!! I might get a date with supermodel Kate Moss!!!
Doesn't John Waters look suspiciously like Steve Buscemi? Who does Steve look suspiciously like?