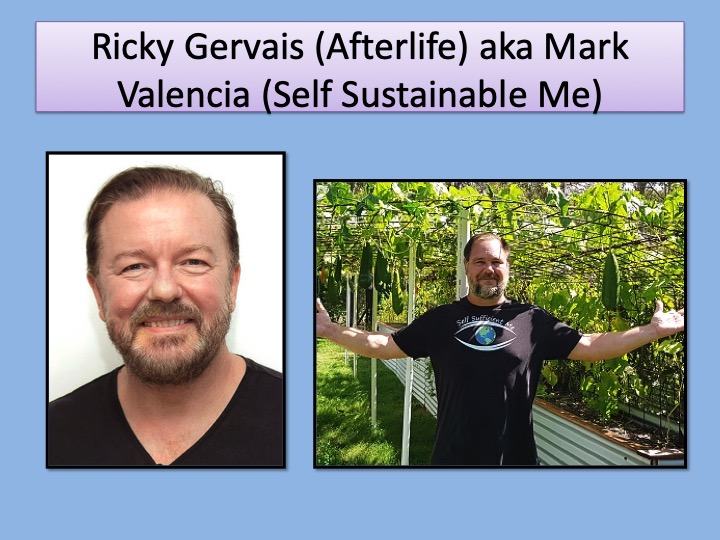 Follow up on Ricky Gervais: So I outed Ricky Gervais as Mark Valencia from Self Sustainable Me, handsome guy! I had used his son as confirmation as he's in a great video about how to get tomatoes to give fruit, tickling the flowers with an electric toothbrush. He's also in the show Afterlife. His son is Ethan Lawrence. Ethan's a very funny kid but like most actors he got temperamental because I didn't post a picture of him or his name anywhere, so here he is.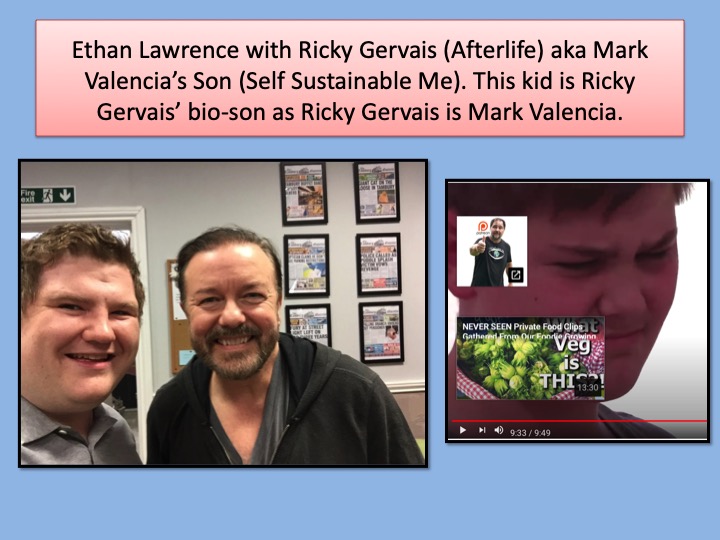 The problem is my computer gets shut down by my "handler" when ever he wants, pia. I also didn't have a good shot of Mark Valencia's wife to confirm against the gal who I thought was Ricky Gervais' wife Kerry Godliman. So Mark aka Ricky was kind enough to post a proper video with his wife in it three days ago so I could do an accurate comparison and I received notification on my phone that this video was just released and it turned out I was correct.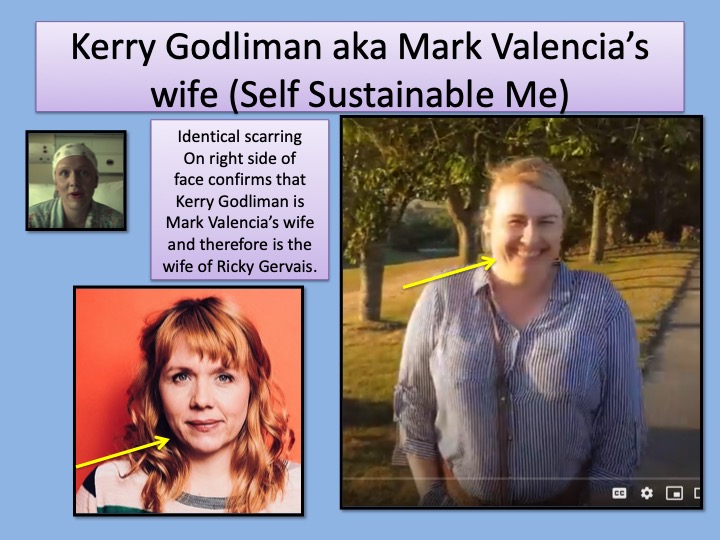 The women look alike and there is identical scarring on the right side of the face near the mouth. Not a great picture of Mark's wife but good enough under magnification.
From what I could glean after I outed Mark/Ricky as one and the same and praised his work at Self Sustainable Me, (and it is great) Mark/Ricky was offered a very fine sum for his 300+ videos…which he turned down and he meant it! They made another offer which is 2 and 1/2 times that original large sum and Mark/Ricky is mulling it over. Nicely done bloke!
Just another plug for Ricky Gervais/Mark Valencia for his work at Self Sustainable Me: His work is terrific! He's informative and entertaining. He is the Jacque Cousteau of backyard gardening, and that is high praise! I watched a video a couple days ago where he hears a Cookaburra essentially screaming and surmises that there was a problem. He goes to investigate and there's a "Goowanna" (an iguana) terrorizing the birds nests. Completely captivating!!! Congrats to all especially us who get to watch these videos. FYI, Afterlife is a great show and at times…piss in your pants funny!! Later gators.
Hi to all my friends and family!!! Love you, miss you, mean it!!!