I was fortunate to see an Off-Broadway musical at "The Village Gate" theater in Greenwich Village in the 70's. I took a first date, might have been second to see it on a whim while we were there.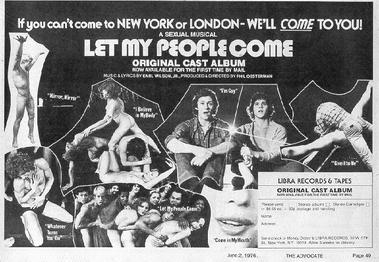 Lot's of nudity and sexual skits. Really fun, we had a good time. I had to believe this was Ron's since there was nudity in Hair, Oh Calcutta, and sexual situations in The Rocky Horror Show. Hard to pick apart the photos looking for everyone but I do recall in the show one guy about Ron's build singing stage right. He was terrific but in part because when he hit the big notes his jar of Nutella pulled up to his abdomen. (I'm told that was Ron! He swore to his kids he wasn't in the show but looks like I spotted him and they didn't believe him anyway.) Why was I looking there? I have no clue why I was even in the theater but it was a great show except the strongest voice was a big black lady who wore a nightgown instead of going in puris naturalibus. Oh she would have been a lot of woman but what a voice!!
So I did my research and saw a clue from the Wikipedia: See below…vocal arrangements were Billy Cunningham…that is a clue since I figured Ron was Allen Cunningham the poker player when I found his wife was a player.
https://en.wikipedia.org/wiki/Let_My_People_Come
Productions[edit]
Let My People Come was originally produced and directed by Phil Oesterman.[2] The show was choreographed by Ian Naylor, musical direction and vocal arrangements Billy Cunningham, scenery, lighting, and production stage manager Duane F. Mazey, scenery and costumes supervised by Douglas W. Schmidt, lighting supervised by John Gleason, stage manager Robert Walter, and press by Saul Richman. The Broadway opening night cast starred Brandy Alexander, Dwight Baxter, Lorraine Davidson, Joelle Erasme, Yvette Freeman, Paul Gillespie, Tulane Howard II, Bob Jockers, Empress Kilpatrick, Dianne Legro, Allan Lozito, Bryan Miller, Bryen Neves, Don Scotti, Dean Tait, Lori Wagner, and Charles Whiteside.
I'll call it quits here, do your own research now