Early on The Howard's did spend some pretty good effort trying to get rid of me. I believe they felt I was an unknown quantity and had already gotten too close to their kids which is a tribute to the girls powerfulness and some of the female elders of the family. I also had sight and the ability to know things I shouldn't. The Howard's were assigned with getting me out of my JCC where I had identified that the place was being used as a training facility for FBI and other federal agencies and none of the money that was being paid by the Feds wound up in the JCC coffers…all of it was skimmed by a bunch of well trusted and greedy members/attorneys. They've been trying to get me thrown out of the gym for ten years doing everything under the sun to smear my name: including all sorts of false accusations and dirty tricks. They finally succeeded a few weeks ago which signaled the start of: "The Battle of the FBI" (some people call it; "The Battle Against the FBI"). It's a battle of significance, like that at Jade Helm, Far and Wide, Hitler and Agnew (still sorry about the last one). So the battle continues until now with roughly 4800 souls sent to their next incarnation upon the marching orders of a low level administrator. Some of Ron and Cheryl's daughters worked hard at harassing me including laying on the floor in front of me and writhing which I wasn't interested in. One of the lady staff who I later connected with on a heart felt level was instructed, which she did, to put on a Micky Mouse wife-beater and point her significant tits at me, possibly the creepiest thing anyone's done to me there. She did it on a few occasions as a not so disguised threat against me. I had complained that the staff there were wearing gym uniforms of black and an off-red color which I said would be perfect if Adolf Hitler were to wander around the facility, as it turned out…he was! When I saw Walt there he looked to me like he was about 90 years old but in great shape for a ninety year old except he had two giant external hearing aides. I didn't piece together who he was at the time but he struck me as just a really nasty business man. So anyway, Ron's girls spent some time sexually harassing me but the culmination was when Lady Gaga was assigned to do Jumping Jacks up on the second floor track. I could jog past her. I couldn't jog past her because if you've seen her without her shirt on in one of her many roles she has absolutely the most magnificent breasts on the planet…bar none! They are absolutely breath taking and in the past when I was studying her I  could ID her in other roles by how beautiful her breasts were. One of the their other daughters was assigned to cut me to shreds in a nearby park while on some swings while a local deceptive was "supervising". If I got close enough he would have been out of his mind pulling her off me while she repeatedly sliced me to pieces. They would have told some kind of story like, "He went over to her and propositioned her and she was only thirteen and then he pulled a knife on her which she wrestled away and managed to stop his attack on her. BTW, I'm good friends with her now and she really didn't know that was me. She is also extremely beautiful and passionate as are all of their ladies. I'm sure the guys are hot too…just not my thing.
Anyway the Howard's do super secret things that no one is supposed to know about like play Barack and his wife so they really couldn't have me around. One thursday they were going to a premiere of a movie of Ron's and I saw Ron preening in a mirror in a tuxedo. He was straightening  his bow tie. I asked one of the girls if her dad was wearing a tuxedo. She said yes, so Ron came up and asked me how I knew he was wearing a tux and I said, "The bow tie is a giveaway." The didn't realize the extent of my sight and Ron and Cheryl went to the theater. While in the theater Ron turned to Cheryl and asked her, "How did Ed know I was wearing a tux?" and Cheryl, one of the funniest ladies you could meet as are the other Howard ladies said to Ron, "The bow tie is a giveaway." Hysterically funny!! Of course I was not supposed to see any of this or hear it but when you have the eyes of Laura Mars this is just what happens but they couldn't have me there. The issue wasn't just second sight, I could also figure things out. Cheryl is a prolific writer and I figured out she was J. K. Rowling which was a big find for me because I never believed the BS about JK being impoverished or homeless or whatever she was and I had found JD Salinger and some other authors so I knew she had to be someone else. I also figured out that she had written other science fiction books like "Divergent" but here's where things got ugly…I figured out that she had written "Diary of a Wimpy Kid," which I never should have been able to. It was out of her genre and out in left field. This stunned them and they asked me how I knew that and I wouldn't tell them. It actually wasn't so hard once I figured she was JK, and authored Divergent and I think I knew Maze Runner as well, I won't reveal how I knew those but here's how I got "Diary". When you search on Google it uses an algorithm, which ranks not just most popular searches but who you search next. Often who you just searched and who you search next are related. I've found some missing people and some ugly people doing this. Here when I searched for the author of Divergent I found laying right between Jk Rowling and Divergent Author on the top of the page the author of Diary of a wimpy kid. Some people know these are the same writers and look for them sequentially or possibly the same books appeal to the same crowd, in any case the three series of books sat together. I didn't figure this out about google, I got it from my mentor…the other guy or the other Ed! Ron and Cheryl were disturbed that I figured this out and I wouldn't tell them. Sadly I don't do this but they have which is keep track of every page on the internet I go to and I watched them as they saw the page I looked at with the three books series on the top heading and the jig was up!! Now they knew my secret!
So soon after Cheryl said to me, "We figured out how you do things so we don't need you anymore…so goodbye Ed! Take care!" Now I was really connected with the gals and frankly having one of the best times of life hanging in the Howard basement so I decided it was worth giving it a fight. So I threatened Cheryl. I had found a nude picture of her from a Pirelli calendar which they knew about, no big deal, so what was the threat? I pulled up the photo and told her I was going to pleasure myself every day to the picture and "oh wow…is that a whip you're holding in your hand? Ithought it was a golf club!!" "Look how hot you look!! I may start pleasuring myself right now!!" Now I didn't threaten to expose her or publish the photos or extort her…none of that! I threatened to masturbate to her photo wearing a black leather corset, black boots, holding a whip and nothing else and this really freaked her out!! Then things went really right! While she was freaked I heard a song in my head and went to youtube and pulled up a copy of it and here is the song…
This was the song that went into Cheryl's after I told her I was going to take care of myself to her photo. I didn't realize right away that Cheryl was Dolly Parton, it was still really early in the game and this would have been a big find but less that a minute of so later I realized what I had…Cheryl Howard was Dolly Parton!!! She had already left the computer to go talk with Ron about this and report Ed figured this out without the benefit of researching Google, he just put it out there. This was really cool on a number of levels since I love Dolly (and who doesn't!) but it tied into a lot of other things which helped make my work easy plus did I mention I love Dolly!!!
So the Howard's decided I was there to stay (I think, they did try a couple other ploys but I can't remember the time course) and of course he was offered a quarter billion dollars to have one his daughters tie me up and murder me which would have been really traumatic for the girl so I insisted that if she was going to have to do this she should do it slowly and painfully. Telling her this seemed to have a healing effect kind of like making it more over the top and like I was a willing participant like…ok I'll let you do but only if you do it like this…it didn't hurt that we were etherically making love at the time which was very nice because she is emotionally very powerful!  She's the kind of person who can inspire you to do things that at a minimum are improbable and at a maximum seemingly not possible.
Ok I'm done…who wants to see that photo of Cheryl?!!!
People are asking if Adolf Hitler was actually walking around there. The answer is uncategorically yes! It was him! He lived until about 115 years old. I've gone through some stuff in the past about life extension and I don't want to belabor it while I'm setting up for the picture of cheryl…btw she's also wearing back stockings, and it's not really a corset cause it has the bottom attached so I don't know what's it called.
Also, I now resent anyone including Cheryl who gave me grief about saying "Num…num…num…num…num!" when Jack Lemmon did "Under the Yum Yum Tree,"!!!! Hippocrates!
Ok…here it is…in all of Cheryl's glory!!!
Scroll Down
Scroll Down
Scroll Down
Scroll Down
Scroll Down
Scroll Down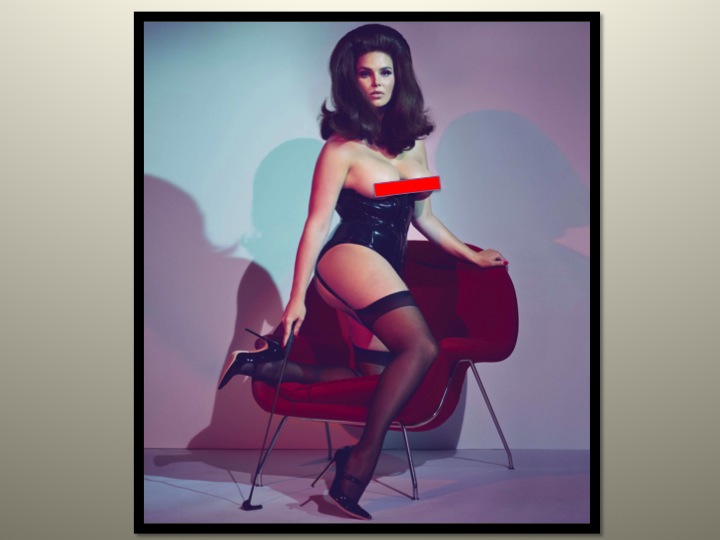 Isn't it everything I said…and more!!! num num num yum yum yum yum!!!!